Composer Arranger Producer
Tapas Relia was the quintessential guitar playing-singer school boy who grew up and surprised everyone by making music his profession! Growing up in a family of businessmen in Ahmedabad, it was sheer passion for music that got him to Mumbai after school in 1996 and his foray into composing was almost immediate. Tapas is a familiar name in Indian advertising sector and is steadily rising in the feature film industry.

His advertising career began with the very popular jingle 'Kya Aap Close-up Karte Hain' which was followed by Amaron Batteries, Lays Chips, IPL Mumbai Indians Anthem, Hero Honda (2010 campaign), Centre Fresh, Classmate Gel Pens, Set Wet Gel. Some prestigious promos like KBC season 3, Big Boss, Master Chef and Mahabharat (2013 Star Plus) can also be attributed to him. 'Tana na nana ree, oh pizza aaye free' is one of his very famous commercial campaigns for Domino's Pizza.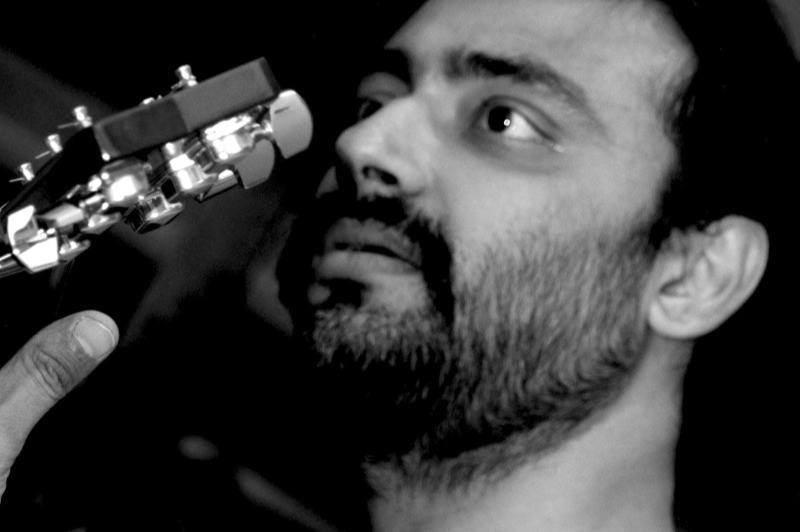 This body of work led the makers of an animation film to him. The producers were looking for a brand new sound for their film that was in fact about the Indian God Hanuman. The animated film, Hanuman (2005) went on to create box office history by being the biggest animation film made in India. The uber cool songs of Hanuman were seen on popular music channels. Akdam Bakdam, in the voice of little children was on the lips of most school going kids. Such was the craze that the makers did a sequel, Hanuman Returns directed by Anurag Kashyap, the music for which too was composed by Tapas. He soon became the go-to-guy for all things animation and "Toonpur Ka Superhero" starring Ajay Devgn and Kajol was his next.

Scoring for cinema has been the next step in his musical career. He has since then, worked for directors such as Nagesh Kukunoor (Mod, Lakshmi) Rajesh Mapuskar (Ferrari Ki Sawaari) and Priyadarshan (Bumm Bumm Bole) and more.

Known to be a 'Studio Musician', Tapas composes, arranges and produces all of his Ad and Film music from the comfort of his own impressive home-studio in suburban Mumbai.

Over the past decade, Tapas has composed music for hundreds of Ad films across all popular media. From simple and minimalistic arrangements to grand and cinematic productions, he has been a part of many successful advertising campaigns. Take a look at some of his selected work here.
Click on 'Playlist' to access a selection of videos
Tapas has worked with directors like Nagesh Kukunoor, Anurag Kashyap, Rajesh Mapuskar and Priyadarshan, on films that cover a wide gamut of genres including Kids, Spirituality, Comedy, Drama and parallel cinema that deliver powerful social messages.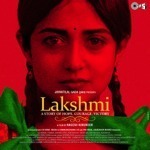 Lakshmi
A hard-hitting film by Nagesh Kukunoor, that deals with the plaguing issue of Child Trafficking. Shot in Hyderabad, this film is about the hope, courage and victory of a 14 year old girl, Lakshmi.

Original Songs And Background Score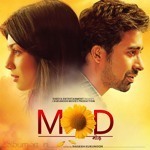 Mod
A woman falls for a male she believes is her class-mate until she finds out that he is an unknown and unstable inmate from a mental institute. Directed by Nagesh Kukunoor, strarring Ayesha Takia and Rannvijay Singha.

Original Songs And Background Score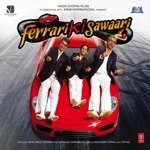 Ferrari Ki Sawari
Directed by Rajesh Mapuskar and produced by Vidhu Vinod Chopra, this film follows the pursuit of an Indian cricket legend's Ferrari, that turns a young boy's dreams of playing cricket at Lords a reality.

Original Background Score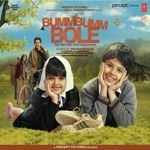 Bumm Bumm Bole
An official remake of Majid Majidi's 'Children In Heaven. Directed by ace film maker, Priyadarshan.

Original Songs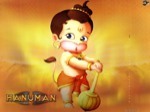 Hanuman
The first animation Box-Office success of India with chart topping music. Presented by Percept Picture Co, this film finally brought animation to mainstream in India.

Original Songs And Background Score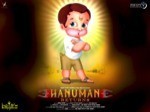 Hanuman Returns
The equally successful sequel to Hanuman, this film directed by Anurag Kashyap, brings the monkey God back to Earth in the modern times.

Original Songs And Background Score


Ahmedabad to Mumbai - The Journey
http://www.youtube.com/watch?v=fIAC2Q1hMzs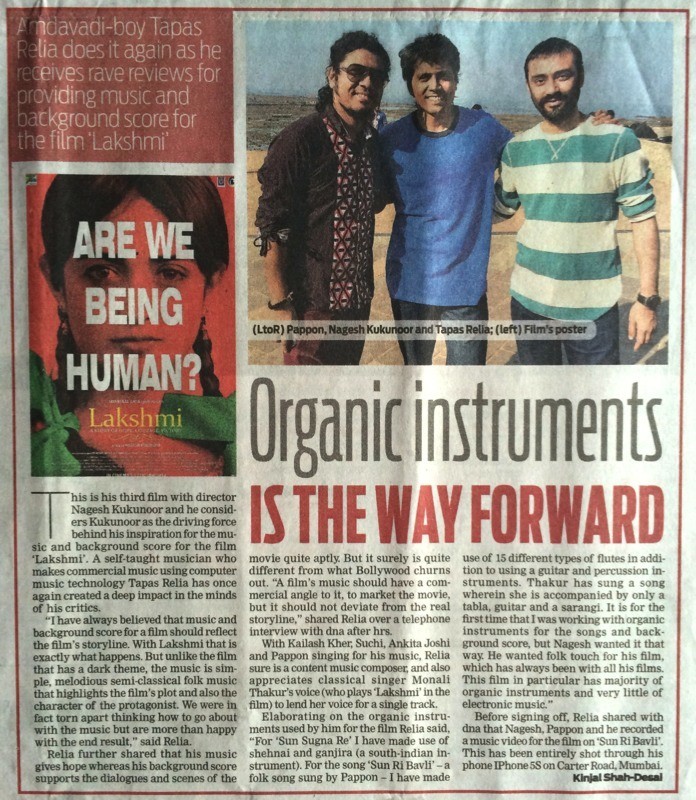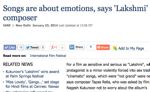 http://www.tapasrelia.com/press/lakshmisongs.pdf,[iframe]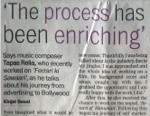 The Process Has Been Enriching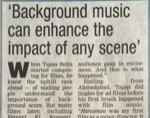 Background Music Can Enhance The Impact Of Any Scene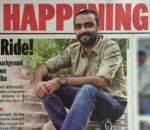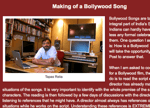 Making Of A Bollywood Song
http://www.tapasrelia.com/press/satishblogspot.pdf,[iframe]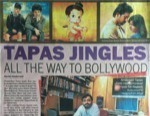 Tapas Jingles All The Way To Bollywood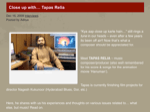 Close-Up... With Tapas Relia
http://www.tapasrelia.com/press/sudeepaudio1.pdf,[iframe]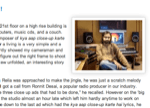 Close-Up... With Tapas Relia
http://www.tapasrelia.com/press/thecloseupman.pdf,[iframe]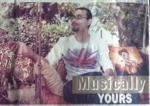 http://www.youtube.com/watch?v=fIAC2Q1hMzs